WHAT OUR CUSTOMERS THINK ABOUT US
Our Latest Reviews
We're proud of our satisfaction record, and not afraid to shout about it.
We believe that honesty is paramount. We make diamond jewellery because we believe that we can offer you an outstanding service at an outstanding price. So when we found Feefo we were delighted to add it to our website. Everybody claims they are special, but the only judge is you.
Feefo is an independent review system that gives you the chance to rate products and services within a range of Excellent to Bad. Whatever you record with Feefo, good or bad, it is posted immediately onto our website for the whole world to see.
We cannot edit or change your response in any way and are delighted to see that most of our customers have been pleased with our service.
Take a look at our most recent feedback, or visit Feefo by following this link.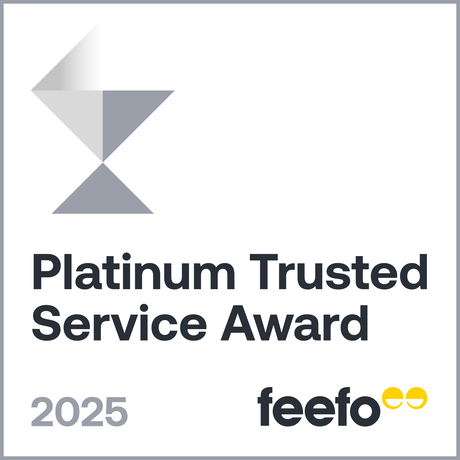 Date
Product
Score
Customer Comment

0.3

30-Jan-2023
Elizabeth

Excellent service, friendly and helpful staff. Very attentive and brilliant experience. Read More

0.3

29-Jan-2023
Double-V Diamond 2.3mm

Their service was tremendous from start to finish. Always very friendly and kept us informed through every step. Read More

0.3

25-Jan-2023
Jamie

Perfect Service. The ring is absolutely perfect, could not have wished for better Read More

0.3

20-Jan-2023
Bespoke Ring Setting Only

Ellen did a wonderful job explaining all aspects of the purchase to me, I wanted a complicated setting for a stone I already own. 5* Read More

0.3

30-Dec-2022
Genevieve

Great service from from start to finish. Accommodating with appointments both to choose the ring and picking up. I had a timeline which was met easily and early.
Definitely recommend and we will be back to choose our wedding rings.
Martin was very helpful and knowledgeable putting my nervous... Read More

0.3

28-Dec-2022
1.7mm Slender Vintage

Top service. Would recommend to all Read More

0.3

28-Dec-2022
Morwenna

Fantastic experience and great customer service (Isla) from booking an appointment, viewing the ring and pick up. Read More

0.3

22-Dec-2022
3.0mm Deluxe Court

Always helpful and excellent customer service. Great choice of products and easy to use website. Read More

0.3

22-Dec-2022
Nyla

They done all they said they would do. The service was excellent and the item came securely and on time. Many thanks Read More

0.3

22-Dec-2022
Sherry

Great service and welcoming approach. Read More

0.3

22-Dec-2022
Bespoke Diamond Wedding Ring

Excellent service Read More

0.3

19-Dec-2022
Portia

My experience of Samara James was incredibly helpful. My consultant was very knowledgable and helped me find the perfect engagement for my girlfriend (now fiancé) who is over the moon. I'd highly recommend Samara James as finding the perfect ring can be a daunting task but they made the whole... Read More

0.3

17-Dec-2022
2.0mm Channel Set

My engagement ring and a wedding band are both from this company. The service is brilliant! Quality for the rings and diamonds is outstanding. I highly recommend their sample ring service, it was very helpful when choosing a matching band. If the occasion will arise for a diamond jewellery in the future I... Read More

0.3

17-Dec-2022
Courtney

Did my research. Chose a gorgeous ring! Very helpful. Great service! Turned up today! I cannot wait to get down on one knee! Read More

0.3

11-Dec-2022
Sasha

I would highly recommend this company. A really professional friendly helpful & experienced jewellery firm.
Mr Martin Bulllen was very knowledgeable in his field of Diamonds. It felt like a friend was advising me. Read More

0.3

06-Dec-2022
Sonic Ring Cleaning Kit

All fine with delivery when it comes Read More

0.3

05-Dec-2022
Custom Finish

Friendly attentive and very informative service. Helpful al all times and patient with all of my stupid questions. Having never bought any kind of ring ever in my life I don't think I could've gone to a better place get my now wife's engagement ring Read More

0.3

05-Dec-2022
2.0mm Vintage Style

Fantastic, knowledgeable customer service in lovely surroundings without feeling and pressure to purchase, highly recommended Read More

0.3

01-Dec-2022
6.0mm Deluxe Court

two beautiful wedding rings, very high quality, very pleased. Helpful service. Read More

0.3

19-Nov-2022
Ashtyn

Great service and great value for money. Very friendly. Read More

0.3

19-Nov-2022
Celine

excellent service, very good communication, very easy to use, beautiful jewellery at a great price, would definately recommend for something special. Read More

0.3

08-Nov-2022
Fearne

Very professional and friendly Read More

0.3

28-Oct-2022
Xanthe

Great customer service when picking out the ring and hood contact during the making process.
Only thing that let them down and not 5 stars, was at the end they got the name wrong on the delivery, so had issues with getting it and people who I didn't want to know about it ended up knowing Read More

0.3

24-Oct-2022
Helena

After ordering an engagement ring online, I shortly afterwards received a telephone call from Henusha who was really helpful and gave great advice.
My ring arrived sooner than expected and myself and my fiancee are so happy with the look and quality of the ring.
Fantastic product and... Read More

0.3

10-Oct-2022
Myrtle

I would highly recommend Samara James, as a 22 year old getting married and not knowing anything about the diamond jewellery industry the consultant "costica" assigned to me was super helpful and went above and beyond in supporting me with my purchase even though I'd made a last minute change he was... Read More

0.3

08-Oct-2022
Helena

Excellent customer service. Ensured I received the perfect ring. Read More

0.3

06-Oct-2022
3.0mm Classic Eternity

Amazing service as always Read More

0.3

04-Oct-2022
Bespoke Round Diamond Ring

From the moment I contacted Isla at Samara James she was very helpful - she is an absolute credit and very valuable asset to the company. She let me know what the "free sample service" was - which is an amazing and very fast, slick service, that enables you to view a ring or several rings before... Read More

0.3

28-Sep-2022
Cameron

Henusha was very professional and knowledgeable.
Certainly will recommend Read More

0.3

27-Sep-2022
Jamie

Excellent and friendly service. Staff made us very welcome. Excellent knowledge about the diamonds and rings. It was a lovely experience to purchase a beautiful ring from yourselves. My partner and I felt very comfortable with the service we got from samara James. Will recommend you to everyone. Big... Read More
GET IN TOUCH
We're on hand to make sure you get the best quality and value for your bespoke jewellery. Contact us today.
-
BY PHONE

01 9011 201

9.00am - 5:30pm. 7 days a week.

BY EMAIL

We aim to reply within 24 hours.