WHAT OUR CUSTOMERS THINK ABOUT US
Our Latest Reviews
We're proud of our satisfaction record, and not afraid to shout about it.
We believe that honesty is paramount. We make diamond jewellery because we believe that we can offer you an outstanding service at an outstanding price. So when we found Feefo we were delighted to add it to our website. Everybody claims they are special, but the only judge is you.
Feefo is an independent review system that gives you the chance to rate products and services within a range of Excellent to Bad. Whatever you record with Feefo, good or bad, it is posted immediately onto our website for the whole world to see.
We cannot edit or change your response in any way and are delighted to see that most of our customers have been pleased with our service.
Take a look at our most recent feedback, or visit Feefo by following this link.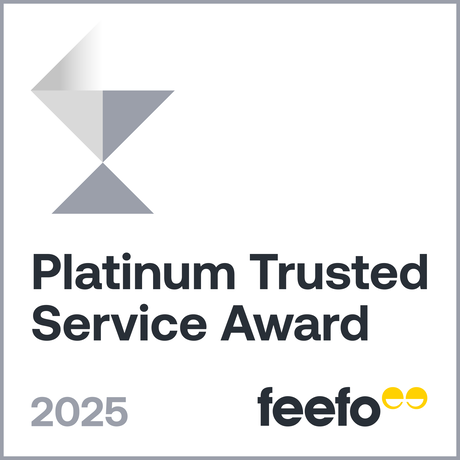 Date
Product
Score
Customer Comment

0.3

18-May-2022
Cheryl

Straightforward online process. Helpful advice from Ellen on how to improve the appearance of the ring by changing the cut & carat selection. Notified by phone that dispatch of ring was delayed due to quality control. Delivery process was prompt after notification of dispatch. Read More

0.3

17-May-2022
Bespoke Wedding Ring

Excellent service Read More

0.3

16-May-2022
5.0mm Medium Court

We originally bought an engagement ring from samara and wanted a bespoke wedding ring to match plus a wedding ring for me. Samara were extremely helpful. Isabelle, our online agent was fantastic and a great help. Would definitely recommend. Read More

0.3

14-May-2022
Fiona

Excellent service, knowledgable staff, spent time to get to know what I was looking for Read More

0.3

09-May-2022
Bespoke Wedding Ring

Fantastic service from the outset and a special thank you to Zoe for making the whole experience stress free :) Read More

0.3

09-May-2022
Stephanie

They were able to accommodate me and my small childling so the purchase remained a surprise. Read More

0.3

09-May-2022
Marilyn

I just wanted to thank Isla for all her help in find me that perfect engagement ring… thanks Isla… Read More

0.3

03-May-2022
Tara

I knew nothing about jewellery however the staff at Samara James delt with me brilliantly…very patient and very helpful .. they gave me a much better understanding on what I was buying and I'm really pleased what I have bought… now I'm looking forward to proposing in a few weeks time ! Read More

0.3

03-May-2022
Augusta

Couldn't be happier with my ring. Henusha was excellent, so friendly, and managed to fast track my order through so that it arrived faster than expected. Beautiful ring, exactly as I had hoped it would be, if not better. Would recommend Samara James without question. Read More

0.3

02-May-2022
Cameron

Excellent customer service from start to finish. The ring I bought for my wife is stunning! Read More

0.3

29-Apr-2022
Stephanie

Outstanding service from every aspect. A brillaint website, knowledgable and helpful staff and excellent communication make the whole process a pleasure. Would recommend to anyone. Read More

0.3

25-Apr-2022
Bespoke Multistone Diamond Ring

Excellent knowledge and customer service from Zoe who helped me to choose my eternity ring, would highly recommend! Read More

0.3

24-Apr-2022
Claudia

Fantastic service from Martin from beginning to end. He took the time to show us alternatives, some cheaper, despite our specific requests, with no hard selling. It makes the difference picking the ring up in person rather than by post. Overall, great purchase at a great price. Read More

0.3

22-Apr-2022
Fortuna

Very good service, accommodated the time and date and even brought the time forward to accommodate us. From our very first contact with the Samara James team they have always been helpful and timely with the information. Read More

0.3

22-Apr-2022
Stephanie

Definitely Read More

0.3

20-Apr-2022
2.5mm Channel Set Flat

Could not fault - exellent service, friendly staff, great ranges, easy location Read More

0.3

19-Apr-2022
Bespoke Ring Setting Only

A very professional and personalised service. Would highly recommend! Read More

0.3

14-Apr-2022
Devon

Really can't thank you enough for your guidance throughout the whole process. Very grateful and very very happy indeed. Thank you Read More

0.3

14-Apr-2022
Gwyneth

The service I received from start to finish was floorless. I dealt with a lady called Zoe who was very professional, excellent product knowledge, remained in contact through the whole process and was able to answer any questions I had which helped me come to my decision. Read More

0.3

11-Apr-2022
Rani

As always a professional and friendly service. Read More

0.3

10-Apr-2022
Latoya

Purchased an engagement ring. Website had a huge selection and the web chat assistance was great, prompt and helpful. When I rang to place an order, the person I spoke to was very friendly, knowledgeable and incredibly helpful and helped me pick the perfect ring for me. From order to delivery, the... Read More

0.3

09-Apr-2022
Jamelia

Brilliant service, excellent advice and they managed to make and deliver my order in record time. Job well done! Read More

0.3

06-Apr-2022
Roxanne

The service was excellent.
The staff were friendly and helpful,plasant and knowledgeable.
Delighted with our order. It had a wow factor. Read More

0.3

05-Apr-2022
Giselle

We have had a wonderful experience buying our perfect engagement ring with Samara James. The personal and professional care shown by Nickie was fantastic. She made us feel happy, comfortable and well informed on every step during the process of buying our ring. Thank you! ** Read More

0.3

05-Apr-2022
Maisie

Where do i start. At the very beginning perhaps.
I was very very apprehensive and was ready to dive into London's & Birmingham's diamond quarters to find a diamond ring for my wife to celebrate our 40th WA. I knew nothing of Samara James. Not even where they were located. A few phone calls to... Read More

0.3

04-Apr-2022
Amy

Amazing experience and personalised service with Henusha who was extremely knowledgeable and so very helpful. I love my rings and would definitely recommend Samara James. Read More

0.3

01-Apr-2022
Glenys

Helpful advice, good delivery and product as well as presentation Read More

0.3

01-Apr-2022
Isla

Loved the entire experience. From purchasing the ring to the after purchase care, every step was pleasant. The ordering process on the website gave me confidence with what I was purchasing and the customer service team were helpful with my time scales. Read More

0.3

01-Apr-2022
Mimi

I recently purchased a diamond engagement ring and subsequently a pair of platinum wedding rings from Samara James.

The staff were professional, friendly and highly knowledgeable, There was no sales pressure and we spent some time choosing the rings without any rush to purchase. The staff... Read More

0.3

31-Mar-2022
Olivia

Probably one of the best buying experiences I have ever had. Very professional but also friendly and helpful throughout. Over exceeded all of my expectations. It felt as if I was being advised rather than being sold to, the ring is beautiful and was delivered well ahead of the suggested date. Will... Read More
GET IN TOUCH
We're on hand to make sure you get the best quality and value for your bespoke jewellery. Contact us today.
-
BY PHONE

01 9011 201

9.00am - 5:30pm. 7 days a week.

BY EMAIL

We aim to reply within 24 hours.