WHAT OUR CUSTOMERS THINK ABOUT US
Our Latest Reviews
We're proud of our satisfaction record, and not afraid to shout about it.
We believe that honesty is paramount. We make diamond jewellery because we believe that we can offer you an outstanding service at an outstanding price. So when we found Feefo we were delighted to add it to our website. Everybody claims they are special, but the only judge is you.
Feefo is an independent review system that gives you the chance to rate products and services within a range of Excellent to Bad. Whatever you record with Feefo, good or bad, it is posted immediately onto our website for the whole world to see.
We cannot edit or change your response in any way and are delighted to see that most of our customers have been pleased with our service.
Take a look at our most recent feedback, or visit Feefo by following this link.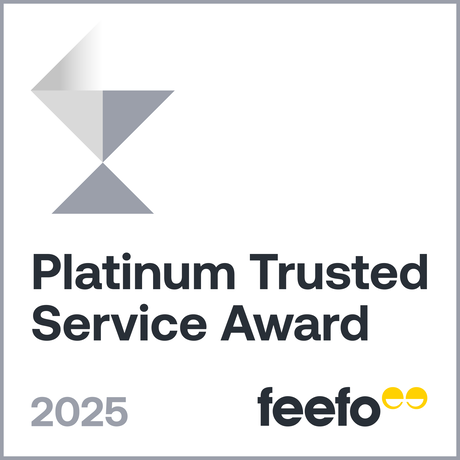 Date
Product
Score
Customer Comment

0.3

28-Sep-2022
Cameron

Henusha was very professional and knowledgeable.
Certainly will recommend Read More

0.3

27-Sep-2022
Elizabeth

From my initial enquiry to having the ring resized, I received excellent customer service and I can highly recommend this company. Special thanks to Henusha for her advice and helping me get the most from my budget, and also assisting with a quick turnaround time. My girlfriend was delighted with the ring... Read More

0.3

27-Sep-2022
Jamie

Excellent and friendly service. Staff made us very welcome. Excellent knowledge about the diamonds and rings. It was a lovely experience to purchase a beautiful ring from yourselves. My partner and I felt very comfortable with the service we got from samara James. Will recommend you to everyone. Big... Read More

0.3

27-Sep-2022
Bespoke Multistone Diamond Ring

Very welcoming and helpful. Took their time to run through my options and explain in detail choices. Very happy with outcome. Read More

0.3

20-Sep-2022
Anastasia

Amazing, quick, easy and simple. Ring is perfect, just as described. The staff couldn't have been more helpful Read More

0.3

18-Sep-2022
Julie

Many thanks to Jenna for all her help and expert advice.

My girlfriend is over the moon with the engagement ring and you made every step of the process much easier.

I highly recommend Samara James for price, advice and service for anyone considering any jewellery... Read More

0.3

17-Sep-2022
Titania

Great service, and beautiful ring. My wife loves it. Read More

0.3

17-Sep-2022
Tara

Excellent customer service from Isla, and very welcoming from entering the shop by a young man , coffee offered and a relaxed atmosphere. Read More

0.3

13-Sep-2022
Danielle

Amazing bespoke customer service.
Delivery on next day was as expected and the package is beautiful as well.

Just a quick note on the actual ring box - it's made of wood and looks like a tiny coffin.
Apart from this, amazing Read More

0.3

08-Sep-2022
Emily

Excellent service, the customer care was perfect; friendly helpful, patient and not pushy. The advice was very good and I couldn't have been happier with the purchase made. Read More

0.3

08-Sep-2022
Bespoke Fancy Diamond Ring

Superb experience - 100% great ring Read More

0.3

07-Sep-2022
5.0mm Deluxe Court

Everything was perfect Read More

0.3

06-Sep-2022
Antonia

Excellent service as usual Read More

0.3

03-Sep-2022
Rosebud

Individual service in refined area. Not a traditional jewellery shop. Very pleasant advisor . We had a couple of issues that were resolved promptly.
It is better if you can keep continuity with your advisor.
Thank you Samara James Read More

0.3

02-Sep-2022
Stephanie

The service is second to none, everyone I've spoken to has been extremely helpful and friendly. It's goes without saying that the end product was of high quality and beautiful! Read More

0.3

01-Sep-2022
Emma

Fantastic, just what I was looking for, very sparkly. The advisor did a great job of choosing a diamond. Read More

0.3

30-Aug-2022
6.0mm D-Shaped

Excellent and professional Read More

0.3

23-Aug-2022
Phoebe

Extremely helpful and polite, wonderful people always willing to go above and beyond to help. Read More

0.3

16-Aug-2022
Miranda

Good quality, Good service, Good price Read More

0.3

13-Aug-2022
Meadow

The staff can't help you enough and have the knowledge to help you, every time I contacted them I received a answer to my question.
The Ring arrived today (so so excited !!) and my goodness it didn't disappoint it is beautiful and sparkling and compliments my Engagement Ring which was also... Read More

0.3

12-Aug-2022
Debra

Exceptional service.

Ordered an engagement ring, which exceeded all expectations. The cut of the diamond is truly incredible.

The whole Samara James team are absolutely fantastic. They are responsive, informative and kept me updated throughout the entire process. Have to say... Read More

0.3

10-Aug-2022
Oceana

I definately woukd recommend going to Sanara James. For their knowledge of diamonds. Even though we had done our homework, it made it easier to understand the difference in the diamonds. Pleasant experience and would use again. Read More

0.3

07-Aug-2022
Clover

Excellent customer service and outstanding knowledge of their products Read More

0.3

02-Aug-2022
Hadley

The ring is absolutely stunning, the communication, delivery & customer service were spot on. Love, love, love the ring. Read More

0.3

01-Aug-2022
Stephanie

Bal was extremely helpful in guiding us through the process of choosing and purchasing. Read More

0.3

29-Jul-2022
Charlotte

I have wrongly made feed back to samara james team ,unfortunately it was due to Royal Mail statment saying that they dont have my ring ,however Samara james did everything in they power to have my ring delivered on the day I needed it,Rob called me today and explained to me what happened Read More

0.3

28-Jul-2022
Bespoke Wedding Ring

The wedding band I ordered was too large so had to be replaced. The process was straightforward. Read More

0.3

28-Jul-2022
2.5mm Deluxe Court Light

Great service. Siobhan was extremely helpful and knowledgeable. Her advice was much appreciated. The delivery process is fantastic. Read More

0.3

16-Jul-2022
Bespoke Wedding Ring

Love the customer service from Samara James. Would certainly go back there if I ever got married again. Read More

0.3

13-Jul-2022
Giovanna

Excellent service , attention to detail is spot on.
Partner extremely excited when presented to her, which she absolutely loves.
Definitely recommend Samara Jame's to shop at with a great range to choose from too. Read More
GET IN TOUCH
We're on hand to make sure you get the best quality and value for your bespoke jewellery. Contact us today.
-
BY PHONE

9.00am - 5:30pm. 7 days a week.

BY EMAIL

We aim to reply within 24 hours.