WHAT OUR CUSTOMERS THINK ABOUT US
Our Latest Reviews
We're proud of our satisfaction record, and not afraid to shout about it.
We believe that honesty is paramount. We make diamond jewellery because we believe that we can offer you an outstanding service at an outstanding price. So when we found Feefo we were delighted to add it to our website. Everybody claims they are special, but the only judge is you.
Feefo is an independent review system that gives you the chance to rate products and services within a range of Excellent to Bad. Whatever you record with Feefo, good or bad, it is posted immediately onto our website for the whole world to see.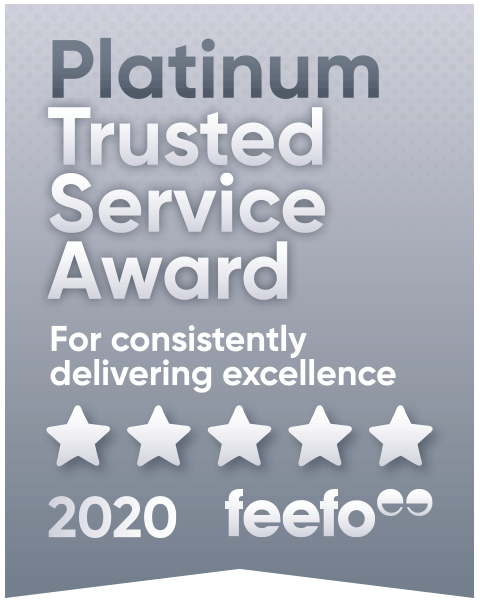 We cannot edit or change your response in any way and are delighted to see that most of our customers have been pleased with our service.
Take a look at our most recent feedback, or visit Feefo by following this link.
Date
Product
Score
Customer Comment

0.3

27-Jan-2020
Roxanne

Amazing! Knew exactly what I wanted and made the process seamless Read More

0.3

27-Jan-2020
Sasha

Fantastic service, patient, informative And delivered on time - 100 Read More

0.3

25-Jan-2020
Yvette

The service was second to none & the staff were friendly and knowledgable. The only negative is that my wife is disabled & in a wheelchair & access is difficult as they do not have ramps. I would definitely recommend them & I would buy from them again. Read More

0.3

24-Jan-2020
Tatum

Had really good customer service, happy to help out and update me on the status of my order. They were so helpful on our first visit to the store too. Just received the ring today in a lovely box too. Read More

0.3

22-Jan-2020
Bespoke Round Diamond Ring

great service and advise from start to end. Shan helped me pick out the perfect ring and even helped me though a process of a custom order.
i did shop around however the expert advise and non pushy sales brought me back to place my order. Read More

0.3

22-Jan-2020
2.0mm Deluxe Court

I was a bit nervous about ordering our wedding rings online but the rings are wonderful. They arrived really quickly and we were updated by Royal mail about when our delivery would be so we could make sure we were in to receive them. The box they arrived in was lovely and they are in nice little wooden... Read More

0.3

15-Jan-2020
Anastasia

looked at purchasing an Engagement ring online for weeks then came accross S James who had really nice designed rings. Spoke to Alex who was most helpful and purchased a week later. I needed the ring for our trip and they managed to get it to me early. Impressed with the service and the ring as was... Read More

0.3

13-Jan-2020
Shepperton

Friendly and helpful service from Henry Read More

0.3

12-Jan-2020
Stephanie

They were very helpful and we'llcoming. Made choosing the right ring seem easy. And I would definitely recommend and buy again. Read More

0.3

11-Jan-2020
Tara

Very good service. Honest and professional Read More

0.3

10-Jan-2020
3.0mm Grain Set

Excellent service from ordering to delivery Read More

0.3

10-Jan-2020
Twisted Diamond Accent

Superb customer service and excellent quality jewellery. What more do you need. Read More

0.3

09-Jan-2020
Lilac

From start to finish. It's been a great experience Read More

0.3

07-Jan-2020
Augusta

The service you provided was excellent. I ordered the engagement ring only three weeks before Christmas 2019, so I could propose on christmas day. The ring arrived a few days before with no problems. The big day arrived and I proposed to my fiancee on the promenade in Scarborogh, a very special place... Read More

0.3

06-Jan-2020
Avalon

Harriet, from Samara James, was superb in her assistance. I wouldn't hesitate to recommend and shop with them again. Read More

0.3

03-Jan-2020
Xanthe

Very helpful staff, fast delivery time. Beautiful high quality jewellery. Read More

0.3

27-Dec-2019
Vivian

The whole experience was informed and professional. I was shown a range of options with no pressure to make a decision which enabled me to choose an excellent ring. Thank you Read More

0.3

26-Dec-2019
Stephanie

Samara james are honestly fantastic order came when told (Christmas eve) ready for Christmas day proposal. The ring itself looks fantastic and was really helped out to get the best diamond for the money i had to spend
Overall very very happy and would definitely recommend. Read More

0.3

20-Dec-2019
Echo

I was impressed with the explanation regarding diamonds. The advance knowledge provided. The description was clear and professionally delivered. It gave me confidence in purchasing the required item for a very special occasion. Read More

0.3

19-Dec-2019
Georgia

Made the whole purchase very comfortable, with no pressure. Would HIGHLY recommend. Read More

0.3

19-Dec-2019
Cameron

Expert knowledge combined with superb service where nothing is too much trouble. Excellent prices too. Read More

0.3

19-Dec-2019
Genevieve

Ellen was superb! Looked after us brilliantly, and gave us all the information we needed in order to make an informed purchase. Read More

0.3

19-Dec-2019
Bespoke Diamond Wedding Ring

Amazing service as usual. Harriet is fantastic and will go out of her way to get you exactly what you want. Read More

0.3

19-Dec-2019
Joy

Great customer service Read More

0.3

19-Dec-2019
Sarah

Was a first time buyer and considering the value of my purchase and that it was an engagement ring I was more than a little nervous buying online. Samara James professional website and impressive reviews prompted me to take a chance and I am so glad I did. Henry helped me to select the best diamond... Read More

0.3

18-Dec-2019
Adriana

We came into Samara James with limited knowledge of diamond specifications however Alexandra Best- explained in detail all the key areas. This enabled us to make the best choice for us.

Although the website was very thorough and we had browsed some designs-we were somewhat openminded and... Read More

0.3

17-Dec-2019
Stephanie

Isabel couldn't have been more helpful and helped me choose just what I was looking for. I would thoroughly recommend Samara James Read More

0.3

17-Dec-2019
1.5mm Slender Vintage

I would highly recommend Samara James services. Having suffered the personal loss of my engagement & eternity rings, previously purchased along with my wedding ring from Samara James, there was no one else I would have turned to for their replacements. Ordering online as I knew exactly what I was... Read More

0.3

13-Dec-2019
Olivia

Great service.
Helpful staff. Read More

0.3

13-Dec-2019
2.0mm Modern Court

Already had bought the engagement ring from the company. As with that purchase the service for the wedding ring was the best. Quick knowledgeable and excellent quality and price. Definitely a 5 star service. Will be sending the engagement ring back for a service just before wedding day so all are top... Read More
GET IN TOUCH
We're on hand to make sure you get the best quality and value for your bespoke jewellery. Contact us today.
-
BY PHONE

01 9011 201

9.00am - 5:30pm. 7 days a week.

BY EMAIL

We aim to reply within 24 hours.